These chicken fajita tacos are a fun and tasty addition to your Taco Tuesday rotation! And with all those colors, you can bet they are pretty healthful too!
Pin
Taco Tuesday!
This month's Recipe Redux challenge was to show our taco Tuesday creations. The hardest part for me was deciding which tacos to showcase!
We've been doing the taco Tuesday theme night at our house for a couple of years now and my kids just love it. I have several go-to taco recipes and vary it week to week. My kids' favorites are ground beef and veggie tacos, pork tenderloin and cauliflower tacos, fish tacos, and these chicken fajita tacos.
Pin
Veggie-Packed Chicken Tacos
I call these tacos chicken fajita tacos because, in my opinion, they are kind of a cross between fajitas and tacos. This recipe has evolved from a classic chicken taco recipe to include more veggies. As with all taco recipes, one of the best parts is that you can customize the ingredients to what you like and what you have on hand.
Pin
Hälsa Kids
With the exception of onions, my kids prefer their taco veggies raw. Thus I always have extra veggies that I cut and put out in little bowls for them to choose from. One of my kids puts these raw veggies in his taco…the other one leaves them all on the side (and not touching the taco!).
So if you have picky eaters, rest assured, it's pretty easy to pick out the chicken from the veggies in this recipe. The "assemble-it-yourself" aspect of tacos is great for kids as they can make their own tacos just how they like them. (Actually, I think most adults love this aspect of it too!)

Chicken Fajita Tacos
These chicken fajita tacos are a hit with kids and adults alike! Packed with veggies they are a healthful addition to your taco Tuesday rotation! Gluten-free with gf tortillas. Dairy-free without sour cream.
Recipe type:
dinner, kid-friendly
Ingredients
½ teaspoon salt
2 teaspoons chili powder
2 teaspoons ground cumin
1 teaspoon onion powder
1.25 pounds boneless, skinless chicken breast, cut into ¾-inch pieces
1 white onion, cut into ½-inch strips
1 red bell pepper, cut into ½-inch strips
1 zucchini, cut into strips
1 tablespoon organic canola or avocado oil
2 cups baby spinach
Juice of 1 lime
8 (6-inch) corn tortillas (make sure gluten-free if needed)
Instructions
Combine chili powder, cumin, onion powder, and salt in a large bowl. Add chicken, onion, bell pepper, and zucchini. Toss well to coat.
Heat oil in a large cast-iron or nonstick skillet over medium-high heat. Add chicken and vegetable mixture, and sauté about 7-9 minutes, until chicken is cooked through. Mix in spinach until just wilted. Drizzle with lime juice.
Meanwhile in a small skillet coated with cooking spray, heat tortillas about 30 seconds on each side, recoating pan with spray between tortillas. (Alternatively, heat them all in the microwave wrapped in damp paper towels.)
Arrange chicken mixture on tortillas and add toppings of choice.
Notes
TOPPING SUGGESTIONS:
Lime wedges
Avocado slices (or guacamole)
Sliced red cabbage
Sour cream or cashew cream
Cilantro
Salsa
Hot sauce

INCLUDE FOR KIDS WHO PREFER RAW VEGGIES:
Raw bell pepper slices
Raw zucchini slices
Fresh baby spinach
I hope your family enjoys this fun chicken fajita taco as much as we do! And if you need some taco Tuesday inspiration, check out all the other fabulous ideas by clicking the Recipe Redux link below: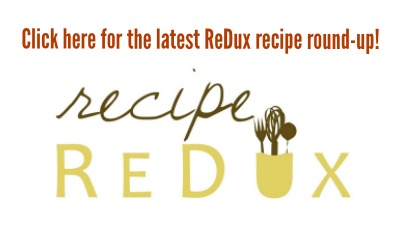 Pin